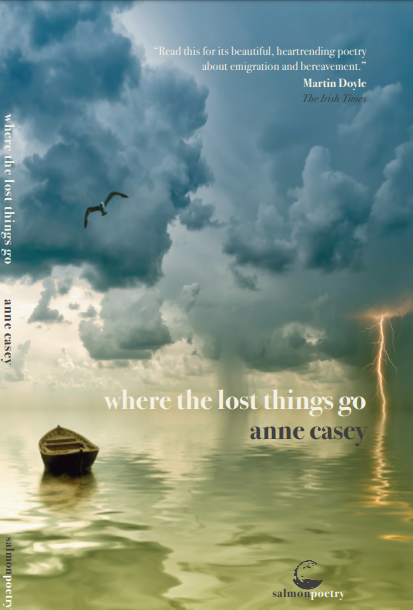 Poetry Book, Where the Lost Things go 2nd Ed - Anne Casey
SKU 978-1-910669-90-7
Product Details
'where the lost things' go traces the experience of losing oneself through life's most formative journeys. Fly back and forth through four decades in narratives bridging the west of Ireland and Australia – buffeted by grief, betrayal and dislocation; gliding on hope and love. Feel the weight of emptiness in the emigrant's baggage; the displacement of the Nowhere people who leave but perhaps never fully arrive; the loss at returning 'home' to find the essence of what that means – people, places and credos – has slipped away in your absence.
This collection is about letting go of your concept of 'home', moving through loss, embracing hope, and finding yourself somewhere in between. Are we, after all, mostly the sum of what we gain from all our losses?
About the Author
Originally from the west of Ireland, Anne Casey is a poet and writer living in Sydney, Australia. Over a 25-year career, she has worked as a business journalist, writer, magazine editor, media communications director and legal author. She is author of two poetry collections, Senior Poetry Editor for the two literary journals of Swinburne University in Melbourne - Other Terrain Journal and Backstory Journal; Vice President of Voices of Women Incorporated, a not-for-profit literary and performance arts initiative; and a member of the Advisory Board for Verity La Magazine.

Anne's writing and poetry are widely published internationally and rank in The Irish Times newspaper's Most-Read. She has won, placed or been shortlisted in poetry awards in Ireland, Northern Ireland, the USA, the UK, Canada and Australia - see Awards. After a long absence, while pursuing a business media career, Anne 'came home to poetry' while grappling with her grief after her mother's death - her first poem as an adult was published in The Irish Times in 2016. This poem, In memoriam II: The Draper, was the fifth most-read item - across all categories - in The Irish Times on the day of publication and resulted in a furore of social media commentary.


Her poetry appears in newspapers, magazines, journals, anthologies, videos, music albums, podcasts, broadcasts, archives and art exhibitions. Through a collaboration with Australian artist, Jane Theau, a selection of Anne's poetry featured as visual art and voiceovers at the 'Stitched Up' exhibition at Newcastle Gaol in July-August 2017. Her literary monologue, 'Cup in hand' was selected to be performed on stage in Sydney by professional actors as part of the The Monologue Adventure during May 2018. A second lyrical piece entitled 'Where once I saw her dance' was selected to be professionally performed onstage as part of The Monologue Adventure in Sydney during May 2019.

Anne's poem, 'Recipe for a Giant Pickle' was selected to be performed by the Climate Guardians at the inaugural Biennale of Australian Art (BOAA) - the largest ever showcase of living Australian artists - in Ballarat, Victoria, Australia in October 2018. Her poem, 'scion' was selected for inclusion in the Spirit of Nature poetry and art exhibition at Manly Art Gallery, Sydney in November 2018. A recording of Anne's poem 'Between ebb and flow' was selected for inclusion in The Poetry Jukebox during February and March 2019. ' What Lies Beneath - a lament for the Great Barrier Reef', written by Anne Casey by special invitation, was performed by international environment activists, The Climate Guardians at the opening of leading contemporary Australian artist, Janet Laurence's 'After Nature' exhibition at iconic Museum of Contemporary Art in Sydney, Australia in February 2019.
Anne is author of out of emptied cups (Salmon Poetry 2019) and where the lost things go (Salmon Poetry 2017, 2nd ed 2018). She is a regular reader at literary events and has appeared at fixtures and venues including Ireland's largest and longest running traditional music summer school and festival - Scoil Samhraidh Willie Clancy, one of Europe's oldest and most respective literary festivals - Cúirt International Festival of Literature (Galway, Ireland), Poetry Ireland (Dublin, Ireland), Rowan Tree Readings (Ireland), Ó Bhéal (Cork, Ireland), Over The Edge (Galway, Ireland), The Poetry Circle (Limerick Writers' Centre, Ireland), Salmon Literary Centre (Clare, Ireland), Sapphos (Sydney), Sydney Poetry Lounge (Sydney), Kinokuniya Books (Sydney), Better Read Than Dead (Sydney), North Shore Poetry (Sydney), Swinburne University (Melbourne), Manly Art Gallery (Sydney), Girls on Key (Newcastle and Sydney) and That Poetry Thing (Smith's Alternative, Canberra) - for upcoming dates, see: Readings & Events. See also: Interviews & Media.
Further information: http://anne-casey.com/. Twitter: @1annecasey.

Save this product for later